The spark that started it all….
Did you know that our Portland has been blessed by Pujya Guruji Swami Tejomayanandaji's (Head of Chinmaya Mission worldwide 1993-2017) presence? Mr. Rajesh Giri, a devotee, used to live in Lake Oswego, Oregon and he had brought Guruji over in the summer of 1989. When Mahatmas grace a place, their blessings come to a community at large, which then creates good karma for all. It is rather evident that Pujya Guruji's blessings and grace have helped lead us to the current bustling Chinmaya Mission, Portland. We were fortunate to receive this article from Rajesh-ji with permission to publish and distribute it.
Message from Pujya Guruji to Mr. Rajesh Giri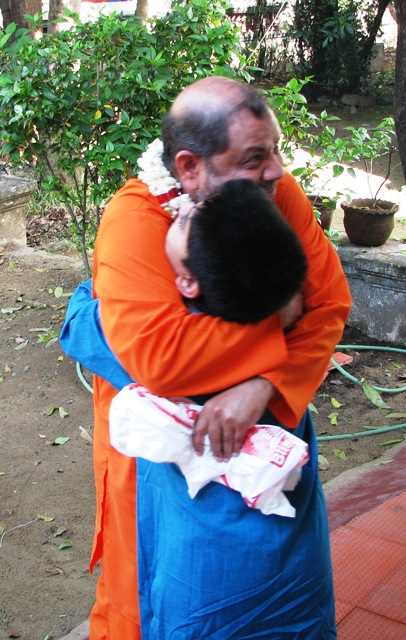 OM
Dear Shri Rajeshji,
Hari Om!
Thank you for your e-mail. The article is lovely. It refreshed my pleasant memories of playing with Nisha.
Greetings to all at home.
With Prem & Om,
Tejomayananda
Central Chinmaya Mission Trust
Saki Vihar Road
Mumbai 400 072
Ph: (91-22) 2857 2367
www.chinmayamission.com
Rajesh-ji recounts his experience…
The Legacy of Swami Tejomayananda: His Visit to Portland, Oregon
Rajesh Giri
It was the late 1980's and I was sitting down in my Lake Oswego, Oregon
living room, reading my newspaper when I noticed a familiar face. It was a photograph of Swami Chinmayananda, a religious icon of mine during my student years in India. I read on, and was thrilled to hear that he would be visiting northern California. It had been 25 years since I was dazzled by his sense of humor and his uncomplicated and logical interpretations of the Holy Scriptures that I held so dear to my heart. I had also been mesmerized by the chanting that accompanied his lectures, which significantly increased the level of my spirituality. Before hearing his words of wisdom, I had been very skeptical about religion and the values of its believers, but he completely transformed me. Now 25 years later, I had the chance to take my son, Nikhil, to have a similar experience.
It was at this very camp in Northern California, where I met an active member of the Chinmaya Mission. I consulted with her to try and bring Swami Chinmayananda to Portland, Oregon. She suggested that I should meet with Swami Tejomayananda, since he had established residency in California, and was considered as one of Swami Chinmayananda's favorite disciples. She invited me shortly after to her home near Seattle, Washington, to listen to Swami Tejomayananda. He was unbelievable to listen to and added his own grace by combining preaching with devotional songs. After this fortunate acquaintance, Swamiji graciously accepted my invitation to Portland.
Upon arrival at our home in Lake Oswego, Swamiji was perfectly friendly and very modest. His character was so fitting with our family that he seemed to be a part of our kin. The most amusing part of his visit with us was his relationship with my six-year-old daughter, Nisha, who followed him around the house as if he was her best buddy. Nisha, being the playful and shameless child that she was, forced Swamiji to partake in the very "holy"
game of cards, UNO. She, however, introduced her own rule: the winner of each game would have to raise his or her hands up in the air and scream, "Champion Da Da Da Daaah!" Of course, this rule came about after she had her winning streak, but Swamiji, unfortunately for him, won a round. Everyone expected him to simply say, "I won," did quite the opposite, as he lifted his hands in the air and screamed, "Champion Da Da Da Daaah!" This story has been told by our family for years and will continue to be one of the most memorable moments of our lives.
Although the next couple of days were nerve-racking for me due to the uncertainty of the turnout for his lecture, Swamiji made it known that even if 5 or 6 people showed up he would be quite comfortable. Prior to his visit family and friends had made calls and sent out mailings to Portland's Indian community, but there were no guarantees of people showing up. Day one began on a Saturday morning in a classroom in Lewis and Clark College with as few as seven individuals excluding family. However, prior to the passage of the first hour, the classroom had packed and the energy from the listeners had filled the room. The audience, in unison and enthusiastically, chanted along with Swamiji "bhaja govindam, bhaja govindam, govindam bhaja mudhamate …". This melodious tune still echoes in my ears!
Swamiji's visitation had increased the thirst for Divine knowledge. A core group of believers decided to meet weekly in order to study Hinduism using videos of Swami Chinmayananda and books published by the Mission. After seventeen years, these meetings are still held, all stemming from the seeds planted by the great teachers – Swami Tejomayananda and his mentor Swami Chinmayananda.
To add to it…..
Anu Tirumala
We were part of a small group that met at Rajesh Giri's house for a weekly study group. This was a little after Guruji's visit. So we did not have the privilege of meeting him. The study group that started at Mr. Giri's house and moved on to Sriram's house after the Giris left the Portland area.
A little bit of history ……