Spiritual truths are eternal. But such knowledge, like Ishwara Himself, comes dressed in different forms through different ages, to reach the people of those times and serve their needs accordingly. Thus the Guru-parampara (lineage of Masters) occupies a central position in spirituality.
Param Pujya Swami Tapovan Maharaj
[1889-1957]
By the grace of God, an aspirant comes into contact with a Guru who is established in Brahman. And through the grace of the Guru he learns the secrets and puts them into practice.
-Swami Tapovan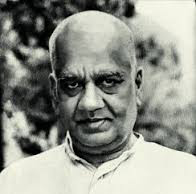 The Guru of Swami Chinmayananda, the architect of the Chinmaya Movement. Swami Tapovanam was a consummate Vedantin, a strict teacher, poet and a sage of great wisdom and tranquility. He was a pristine glacier of Self-knowledge, a saint of the highest order. That Truth, which Swami Tapovanam realized and indicated in all his teachings is beyond words, as much as he himself was. Swami Chinmayananda said of his Guru, "He was a God without temple, a Veda without language".
Filled with divine Light, the compassionate sage shared words of wisdom with all devotees who came to him in search of spiritual knowledge, but rarely did he accept resident disciples. Monks, householders, pilgrims, and seekers from all stages and fields of life continually thronged to Uttarkashi to be in the presence of, and learn from, the Self-realized master and erudite scholar. When Swami Tapovanam did accept a resident disciple, the latter was trained under the strictest conditions. There were few who could undergo and survive such hardships, but those seekers who did, were blessed by the Master with supreme Enlightenment.
Param Pujya Gurudev Swami Chinmayananda
[1916-1993]
A true and selfless sankalpa, when it arises in an individual's heart and when that sankalpa is consistently worked out by a disciplined team of workers, it becomes Lord's own expression. Success alone must rise from it.
– SwamiChinmayananda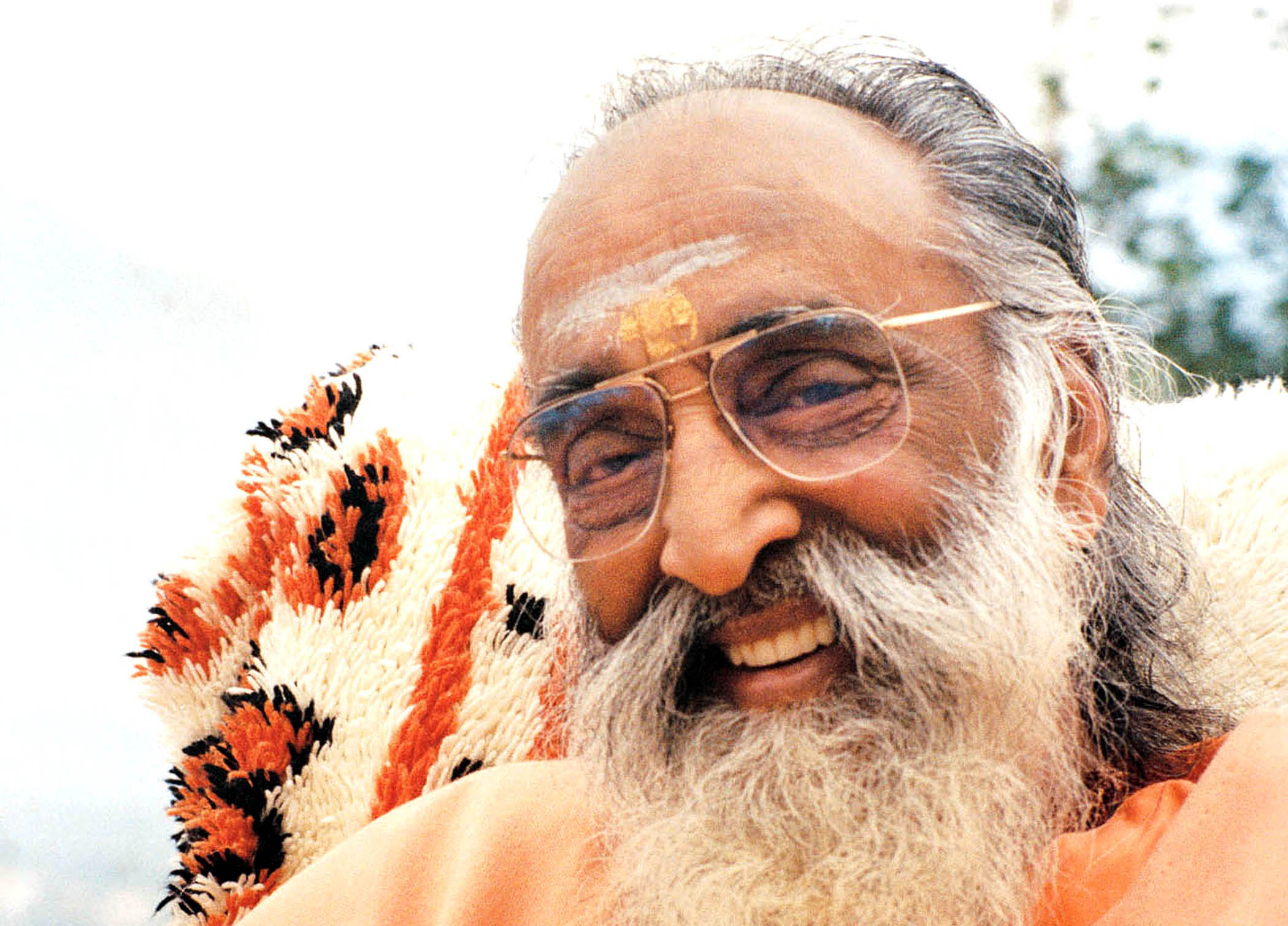 H.H. Swami Chinmayananda is a world-renowned authority of the powerful scriptures of India, especially of the Bhagavad Gita and the Upanishads. He was born in 1916 and attained mahasamadhi (passed away) in 1993. He worked relentlessly for about 40 years to bring about spiritual revival in India and abroad. His unique style and logical approach are appealing to all young and old.
His was the life of selfless service to others. He is the author of many sublime books, each one a masterpiece, dealing with the philosophical principles behind the religion. He made the mysterious and elusive Vedantic principles easily understandable for common people. He is the founder of Chinmaya Mission, through which the work that he initiated and was so dear to him, is carried out in the form of spreading the message of Vedanta, overseeing numerous cultural, educational, and social service activities. A biography of this great spiritual master entitled Journey of a Master: Swami Chinmayananda, is available through Chinmaya Publications.
Swami Chinmayananda was selected by the Hindu Host Committee to be the President of Hindu Religion, representing Hinduism worldwide at the Meeting of the Parliament of World Religions in Chicago (during August 28 – September 4, 1993), an honor bestowed on the great Swami Vivekananda a century ago. The Parliament had selected fourteen eminent religious leaders around the world to form a council to guide the world into the next century. At "World Vision 2000," a conference of religious leaders sponsored by Hindu Vishwa Parishad during August 6-8, 1993, H.H. Swami Chinmayanandji was to be honored for his lifetime of selfless service to humanity and his extraordinary achievements in creating a renaissance of spiritual and cultural values in India and abroad. However, on August 3, 1993, Swami Chinmayanandji left his body in SanDiego, California, after suffering a massive heart attack. The equipment with which he accomplished these noble tasks, his body, became too worn out due to the ceaseless Seva of Our Gurudev to humanity for over 42 years. Though he has left his body, his soul lives on through every Chinmaya Mission attendee, and his all-pervasive knowledge has, to his great happiness, been passed on to us all.
Pujya Guruji Swami Tejomayananda
Even though there remain no duties whatsoever for me to perform in this world, still, there certainly does remain something to be done: to constantly serve with devotion the feet of my Teacher by whose guidance alone I have gained this Wisdom.
– SwamiTejomayananda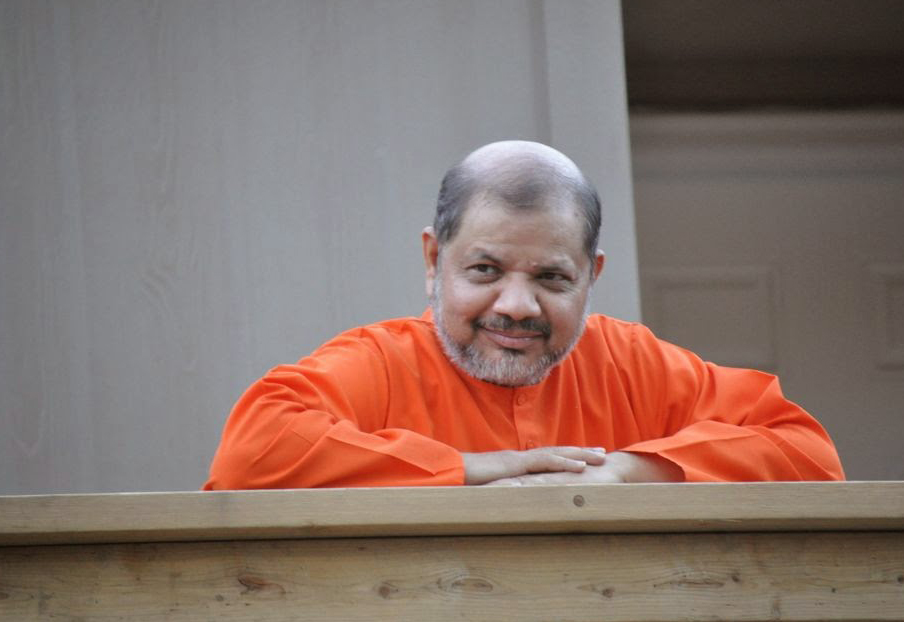 Swami Tejomayananda is fulfilling the vision that Pujya Gurudev, Swami Chinmayananda charted. As he puts it "I am not in Swamiji's shoes, I am at his feet." He was introduced to Vedanta early in his life. Coming under the benign influence of Pujya Gurudev, H.H.Swami Chinmayananda, he learned, absorbed, and started living the message of the scriptures that his master so vociferously advocated. An accomplished and internationally recognized scholar, Swami
Tejomayananda has been spreading Vedantic knowledge for decades through lectures, seminars, and spiritual retreats. He has been the Acharya at Sandeepany Sadhanalaya in India and the USA.
Fluent in Sanskirt, Swamiji is the author of original Sanskirt compositions as well. He has written commentaries on scriptural texts, translated Swami Chinmayananda's commentaries into Hindi, and authored a number of books. A key contribution is Hindu Culture – An Introduction, a text acclaimed for its clear description of the basics of Hinduism and adopted as a text in some American high schools. Swamiji's discourses on the Holy Geeta, Ramayana, and Srimad Bhagavatam draw a huge crowd of devotees. Swami Tejomayananda excels in expounding a wide spectrum of Hindu scriptures, from Ramayana to the Bhagavad Gita Srimad Bhagavatam and the Upanishads, the sourcebook of Vedanta. He conducts Jnana yajnas — lecture series on Vedanta. His discourses, Satsang, and bhajans reveal his knowledge has a depth of wisdom.
In overseeing the Mission's global activities and projects, Swami Tejomayananda's tours around the world had been extensive and continuous. Throughout his travels, he conducted jnana yajnas (3-7 day Vedanta lecture series) in different cities and various countries every week. His gentle manner, devotional heart, intellectual clarity, joyful wit, and open availability have earned him intergenerational appeal and endeared him to millions across the globe.
On January 19, 2017, Pujya Guruji Swami Tejomayananda passed the "Guru Seva Padak" (baton) to Pujya Swami Swaroopananda, of being Global Head of Chinmaya Mission.
Pujya Swami Swaroopananda
(Head of Chinmaya Mission Worldwide)
Whenever a noble thought comes into your mind, know, and recognize it as the Lord's thought. We simply need to offer Him our hands and legs and then He only will work through us, and we can just watch as our vasanas get exhausted.
– SwamiSwaroopananda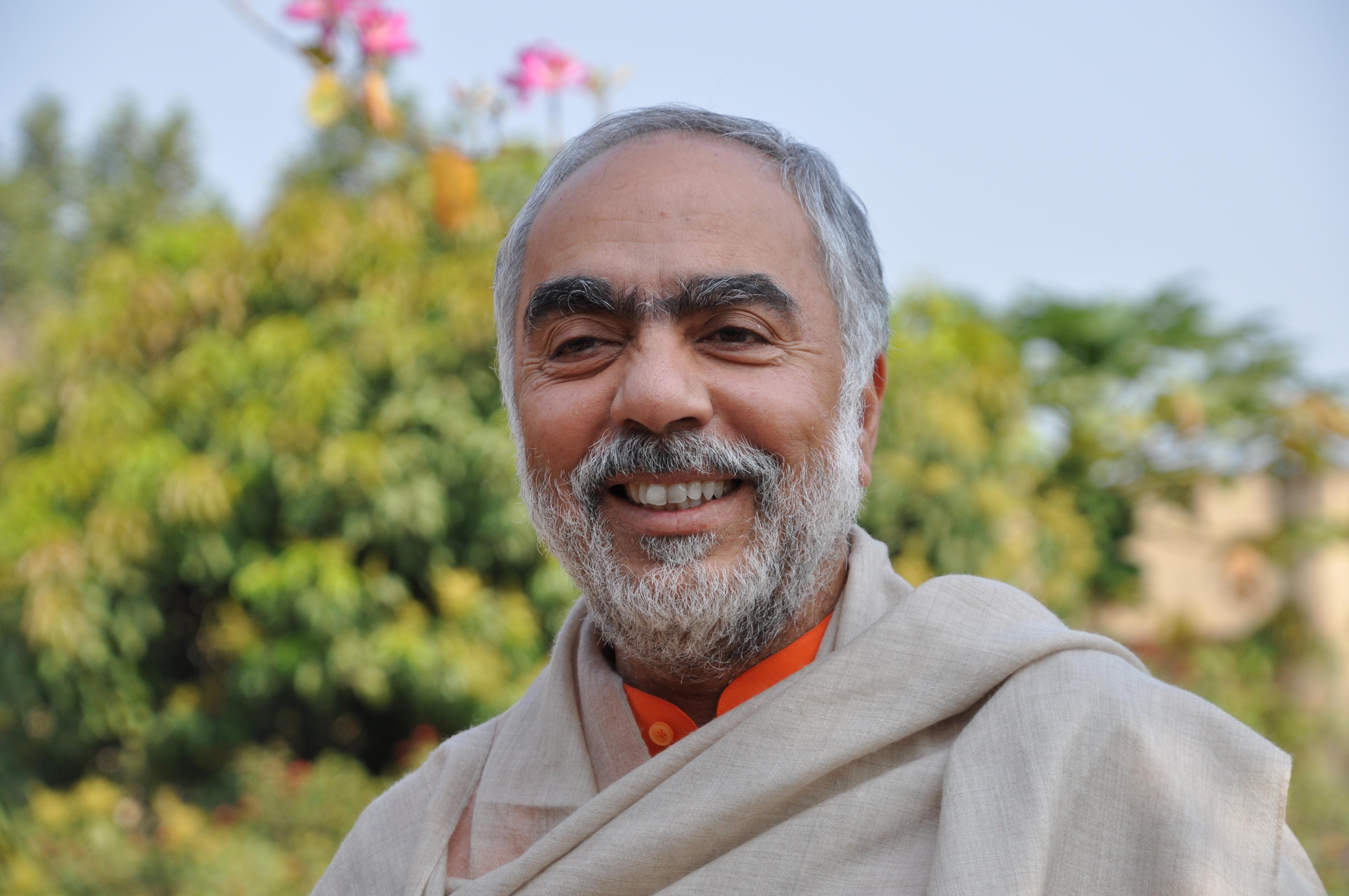 Swami Swaroopananda left his family's thriving business in Hong Kong at an early age to seek what he now calls, "real answers to real problems". Since undergoing intensive monastic training and an exhaustive study of the scriptures at the Chinmaya Mission ashram in Mumbai, Swamiji has spent 25 years traversing the globe, sharing the wisdom of Vedanta with hundreds of thousands of people.
Formerly the Regional Head of Chinmaya Mission Australia, United Kingdom, Middle East, Africa, and the Far East, and presently Chairman of the Chinmaya Vishwavidyapeeth Trust (University for Sanskrit and Indic Traditions) and Director of the Chinmaya International Residential School in Coimbatore, South India, Swami Swaroopananda has been bestowed by Swami Tejomayananda the privilege to also serve as the Head of Chinmaya Mission Worldwide in January 2017.